Gusto makes it easy to support your hardworking team
That's why Gusto is our preferred partner for payroll!
Modern, full-service payroll
Gusto is becoming the most popular payroll and benefits platform that offers a wide range of features to help businesses manage their payroll and employee benefits. Here are a few reasons why we use Gusto for our clients, and why you should consider switching:
Ease of use: Gusto's user-friendly interface makes it easy for businesses to manage their payroll, employee benefits, and subcontractor payments. The platform is intuitive and straightforward, which means that businesses can quickly and easily process payroll, manage employee and contractor information, and access important HR tools such as time tracking and employee reporting.
Comprehensive coverage: Gusto offers a wide range of features to help businesses manage their payroll and employee benefits. This includes tax compliance, direct deposit, and employee self-service portals, as well as benefits such as 401(k) plans and health insurance.
Automation: Gusto automates many of the tedious and time-consuming tasks associated with payroll and benefits management. This includes automatic tax filing, employee onboarding, and other HR processes. This automation saves businesses time and resources and helps to reduce errors.
Support: Gusto offers excellent customer support, including a dedicated customer success team that is available to answer any questions or provide assistance. They also offer a wide range of resources such as how-to guides and tutorials to help businesses navigate the platform.
Integration: Gusto integrates seamlessly with other popular software platforms, such as QuickBooks, ADP, and Xero. This makes it easy for businesses to manage their payroll, accounting, and other business processes in one place.
In conclusion, Gusto is a great option for businesses looking for a comprehensive and user-friendly payroll and benefits platform. With its range of features and excellent support, it can help businesses save time and resources while also ensuring compliance with the regulations, which is why it's favored by us here at MassTax as the payroll provider for our clients.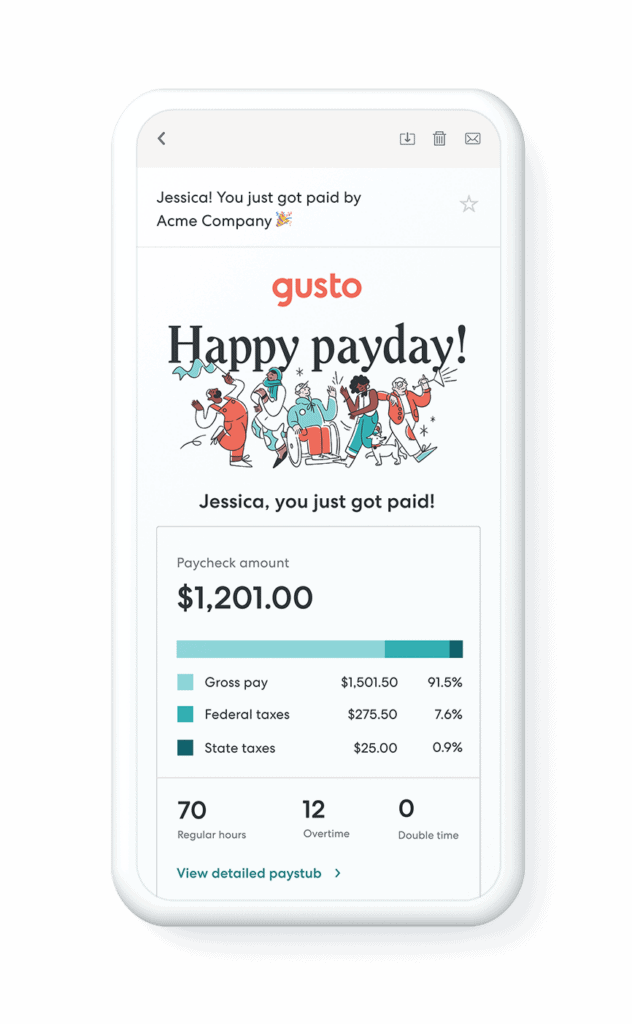 Simple pricing + Easy Payroll
If you are looking for MassTax to setup, manage, and process your payroll for you, our pricing is simple.
Choose the Gusto plan for you
Head over to Gusto & choose the plan the works best for your business.
We set up your plan or migrate you to our services
We charge a $125 one-time fee to set up your account or migrate your to our services.
Start paying your employees
We handle running your payroll each pay period. Each pay period costs $75 for us to run.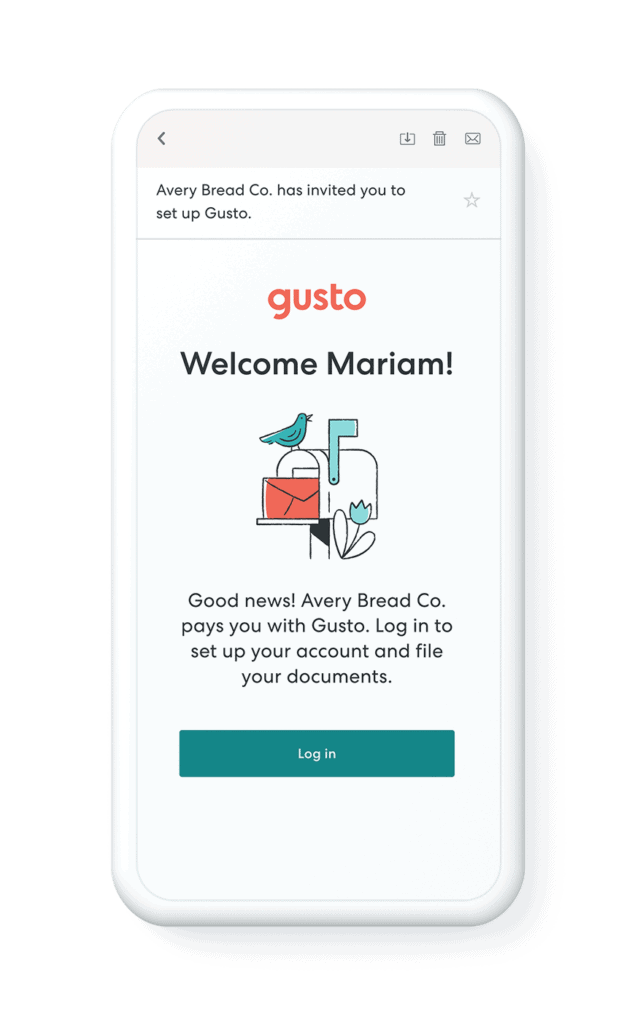 A small business with 2 employees
You are a business that's just starting payroll, and you would like MassTax to setup and run your payroll each month. You decide that you would like to pay your two new employees twice a month (semi-monthly). You decide, based on Gusto's products that you only need Gusto's simple plan. Your fee would be as follows:
Gusto Base Fee (per month): $40 + $6 per employee = $52
MassTax one-time setup fee: $125
MassTax monthly per pay-period fee: $150 (two pay periods per month)
Your first month invoice would be $327 (base fee, plus setup fee, plus per pay-period fee)
You would then be billed $202 per month thereafter, plus $6 per any additional employees you add in the future.
Migrating to our services
You already have payroll but would like to have MassTax take over and manage your payroll. Using the same scenario from above, your fee would be the same $327 initial fee (the $125 migration fee, plus base fee, plus the per pay-period fee).
If you feel confident that you can setup and manage your own payroll, just head on over and choose the Gusto product that best suits your needs!
Please note: with DIY payroll, MassTax bills $125 per hour to assist with any payroll related issues on your behalf.
Questions? Schedule a free consultation now!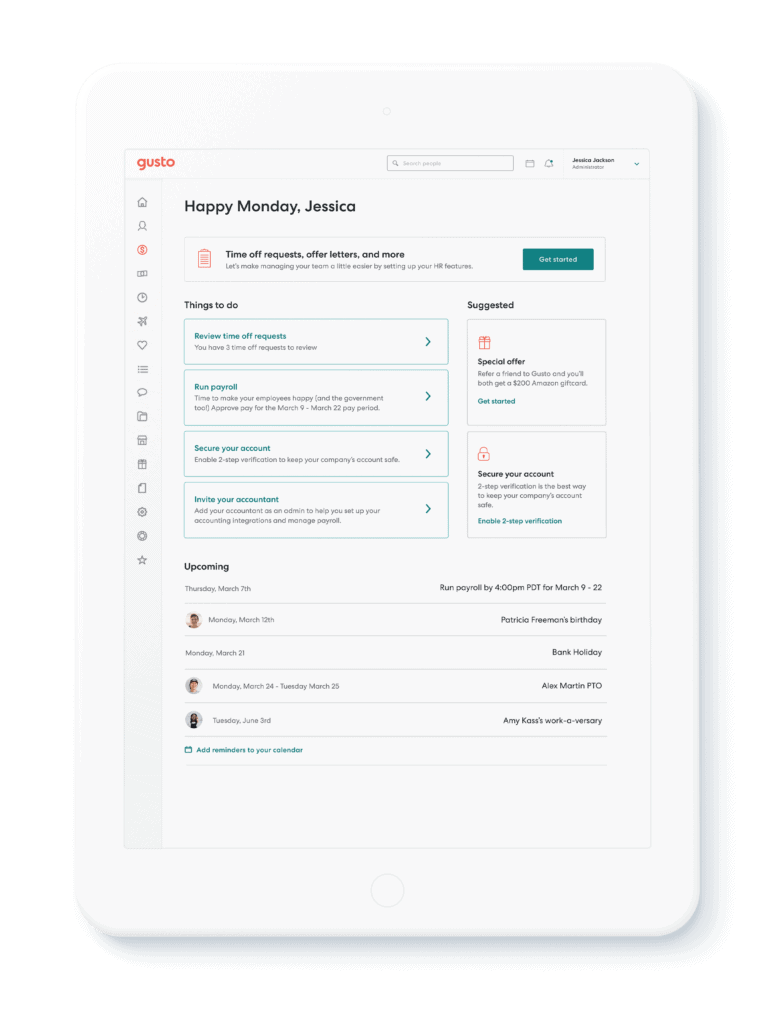 Why have MassTax manage your payroll with Gusto?
Gusto is a cost-effective way to manage your payroll and benefits, so you may ask yourself: why should you pay the additional MassTax setup fee and the per pay-period fee to have us process and manage your payroll? Great question, and we have answers!
We will register you with your state taxing authorities (if you haven't already) and get your employees onboarded with Gusto
Each year, your state taxing authorities update your business tax rates – with our full-service payroll, we handle updating this for you so that you avoid any potential costly mistakes
We answer any payroll related questions you have – within 24 hours (excluding holidays & weekends)
We handle integrating Gusto with your current bookkeeping software
We run payroll for you – you just send us the hours, any applicable tips, commissions, and bonuses – and we take care of the rest
We assist in setting up your employee benefit programs in Gusto (if applicable) including 2% Shareholder S-Corp payroll, SEP IRA contributions, 401(k) plans, etc.
We show you additional ways to save on taxes utilizing payroll laws that can save you – and your company – money!
We currently only offer our full-service and payroll support options to MassTax clients that are enrolled in the bookkeeping or bookkeeping and tax service plans. If you would like more information on our plans, please click here.
If you are a current MassTax client and would like to add payroll to your service plan, please contact us via your client portal or e-mail us to get started.